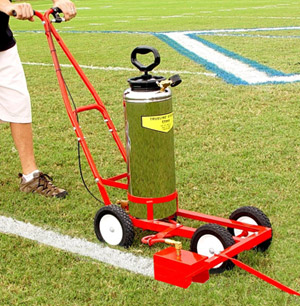 Football and Soccer field marking machines are perfect for painting lines on Athletic Fields. This light-weight, compact striping machine is built tough. Perfect for Soccer Associations with only one field to maintain.
With a self-contained hand pump, just a few strokes builds sufficient pressure to stripe 80 to 100 ft. before needing a few more pumps. Then stripe another 80 to 100 ft.
Stripes the same professional line as all our other equipment.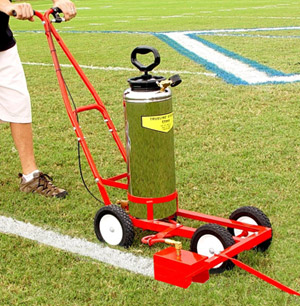 Trueline Striper Model 20G
With 4 Gallon Stainless Steel Paint Tank, Hand Pump.
Comes complete with 4" Spray Box, dual spray tip and all specifications below.
$935.00
UPS Shipping $84.00
Handling Time: 1-3 days
Shipping Time: 2-5 days
30 day Satisfaction Guarantee
When you purchase a Trueline Striper or any attachment, we guarantee that you will be completely satisfied within 30 days or you may return it for a full refund!
10 Year Warranty
Against rust-through on tanks and chassis
2 Year Warranty
Against defective parts and workmanship
Everything in Stock
Ready for immediate shipment!